Motorcycle-Fmx Stuff
Rick Heddle Bio. For New Website Click Here!
My first two big shows with Pace Motor Sports (SFX) were at BC Place in Vancouver and the Seattle Kingdome in USA. They were the last two shows of the thunder bike series (spring 99). This was a great contact to have for what was about to happen. In September 1999 SFX started up their own freestyle motocross series, beginning with five shows . In Fresno CA, I competed in Pace's first of five jump competitions. All were invite only and I secured 9th and 7th place of 15. We also did all of the media and radio for SFX.
On October 22nd, LBZ flew myself and my fellow LBZ rider also from the Okanagan to Orange County CA for a LXD event (another producer of freestyle motocross events). We qualified 1 and 2 out of 26 riders I placed 11th of 16 of the worlds best riders in the finals. The following weekend we went on to Nampa Idaho with Pace to do the second competition where I placed 7th out of 15 riders.
In November 1999 (first three weekends) was the start of the Vans Triple Crown of freestyle motocross (A high profile event) All riders had to qualify - I qualified 1st in round 2 and I tied with Mike Metzger (a good friend) for the two highest scores of all 25 riders for the day.
Only 18 would qualify for the 3-week tour.
• San Diego, CA - 10th and 7th place finishes.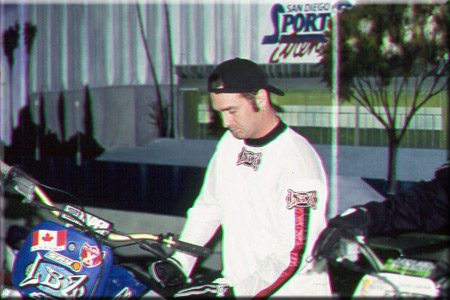 • Anaheim, CA - 11th and 10th.
• San Francisco, CA, I became very sick with Bronchitis and could not ride.For 1999-2000 I was 4th in the IFMA point standings and 9th out of 35 overall. These three events were all airing on ESPN. For 2000 I did some Canadian filming for extreme videos and US filming with LBZ and Greg Godfrey for the Children of a Metal God video number 3. I have been riding dirt bikes for well over 30 years and am now 39. I like to freeride and jump bikes most of all. Im a very versatile rider. I ride cross country and off road when Im not jumping. Being one of the few free style riders from Canada I get a lot of attention wherever I ride (especially in Canada). I am going to be riding select Clear Channel events (Pace Motor Sports) in the future, as my Canadian Schedule permits.
I began the 2000 season on January 14th and 15th, in Calgary for a jump show and February 5th for a Pace Motor Sports, monster truck show in BC Place, Vancouver. I was also a top 10 qualifier for the 2000 Gravity Games in July, where I rode and qualified 10th for the finals. Unfortunately I injured myself - compressing my spine and fracturing a vertebra in my back. I was unable to ride for a few months. Being one of only two Canadians to ride in the Gravity Games to date is an outstanding achievement in my career. I have also had my pictures in motorcycle magazines, including a picture on the cover of October 2000 /Dirt Bike Magazine (the only Canadian to be on a major magazine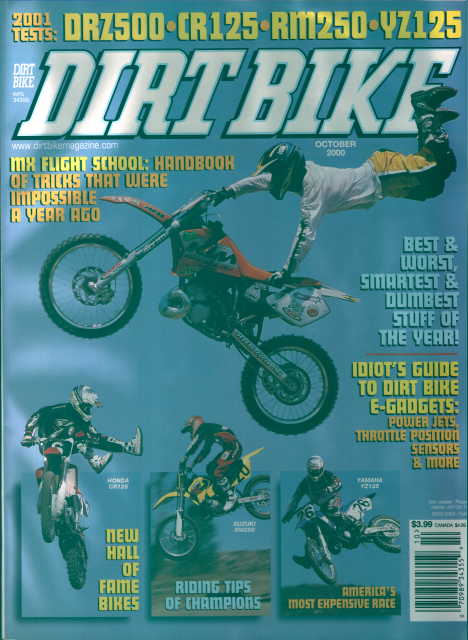 cover). For 2001 I have numerous monster truck demos to do and will compete in select competitions in both USA, CANADA as well as some Demonstrations in South and Central America. I also have more sponsor filming planned for some of their up coming movies. Race Tech suspensions also used me in some of their advertising in motorcycle magazines as well as LBZ clothing.
I rode for No Fear motorcycle clothing from May 2001 until June 2002 and some other team No-Fear riders included some of the best riders in the world (Jeremy McGrath, Travis Pastrana, Carey Hart just to name a few!!, I have done some major demos at music festivals including Stage 13 and Big Valley Jamboree in Camrose, Alberta, Canada each with 90,000 people total attendance. I also have done shows for House of Blues including Edgefest in Halifax, Canada on Citadel Hill 2002 and some of the bands included Matthew Good, Sloan, De La Soul, New Deal, Crush, Raskalz, Swollen Members, Mighty Mighty Bosstones, Lowest Of The Low,GOB,Fishbone and about 30 more! August and September I spend 17 days at the PNE in Vancouver doing 4 demos a day with a total 500,000 spectators over the period. For 2003 I will be busy working and riding for Performance Promotions/House of Blues travelling across Canada and USA doing FMX shows. Our list of events grows daily. I am very excited to have various articles of clothing and merchandise, with my logo and name used on them. In addition, we are going to be part of a new clothing launch (NeverQuit) which is very exciting for us. Never Quit is currently featuring Kris Garwasiuk and myself as the Never Quit FMX team with our own clothing line. I am also excited to be added to Clear Channel Motorsports 2003 rider list (formerly Pace Motorsports)! In 1999 I rode Yamaha motorcycles in 2000 I rode for KTM Sport Motorcycles of Canada and from 2001-2004 I rode for Yamaha and 2004-2006 Im riding a Honda CRF450 for Honda Canada and Vernon Motorsports. I have had the last few years away from FMX I have been very focused on my new landscape buisness. I have been doing alot of free riding and dual sporting and tons of quading Im very excited to do some dirt bike stuff in the years to come including filming and promoting some of the local shops and also teaching, More info coming soon!!
Freestyle Motocross Briefly Explained.
Freestyle Motocross has been pushing the limits on what man and machine can accomplish. Indoor courses consist of steel to dirt or wood ramps that launch the riders 30 feet in the air over a 65-75 foot span and outdoors 60-100+ foot spans to see how many different ways you can 'hang' from your bike. And if that's not enough, in the past few years complete back flips and even a double back flips have been accomplished!! As a result, fans are flocking to stadiums around the world to see what freestyle motocross is all about.
Just a few years ago, in March of 1998, the first organized freestyle motocross event was held by 4-leaf entertainment in Las Vegas. It was an immediate success surpassing all expectations. In January of 1999 SFX motorsports joined 4-leaf entertainment and promoted five events. For 2000 they expanded to 15+ events with sell out crowds at first time venues. With 20+ events for 2001 and on into the future, you can clearly see there is no end in site.
The explosive growth of freestyle motocross doesn't stop there. Since its inception to the Olympics of extreme sports- ESPN's X-GAMES in 1999, it has become the show piece, with more television segments aired than any other extreme sport in 2000. Let's not forget NBC's award winning GRAVITY GAMES where freestyle motocross was also the center of attention. Other networks that are capitalizing on freestyle MX popularity are MTV, ABC, and FOX.
Because of the new generation's appetite for extreme sports, freestyle motocross is experiencing a phenomenon. No other motorcycle sport in history has transcended as quickly as freestyle motocross and Rick Heddle is no stranger to freestyle motocross. Rick prides himself as one of the originals of freestyle motocross in Canada, USA and the world. He started not even a year after it was conceived and since has gone on too qualify for the Gravity Games in 2000 and make it into the main event along with only 9 of the worlds best riders and a top qualifier for the Vans Triple Crown of Freestyle Motocross. "I was even as high as fourth place at the end of 1999/2000 for the IFMA point standings." He has been included in freestyle motocross exhibitions at monster truck shows and various musical festivals as well as some major shows up to seventeen days long four shows per day for the past few years now. Plans are to continue on into the future - there is no slowing down in sight for Rick. He is continually adding shows. Because this sport is so new (since 1997-98), it comes as no surprise that because of his involvements and dedication Rick is able to keep up with the youth of the sport being one of the oldest FMX'ers . "I never had this sport when I was growing up. I actually began freestyle when I was 26/27 years of age(when most riders consider retiring)." After intently watching the activity south of the border and the millions of people that have been exposed to freestyle motocross through television, Rick is confident the time is right for professional freestyle motocross to become a success in Canada.